Hannasky Livestock Carriers take pride in their work and their equipment it is in great condition, well looked after and serviced regularly. Included in the fleet are:
3 x Kenworth T909 Prime Movers
Kenworth T350 Tray truck and Pig Trailer
1 x B Double Cattle Crate
3 x B Double Sheep Crate
1 x 4 Deck Sheep Crate
Prime Movers
Hannasky Livestock Carriers run three Kenworth T909 Prime Movers, with Cummins engines.
They also have a Kenworth T350 Tray Truck with Pig Trailer for those smaller jobs or harder to get to places.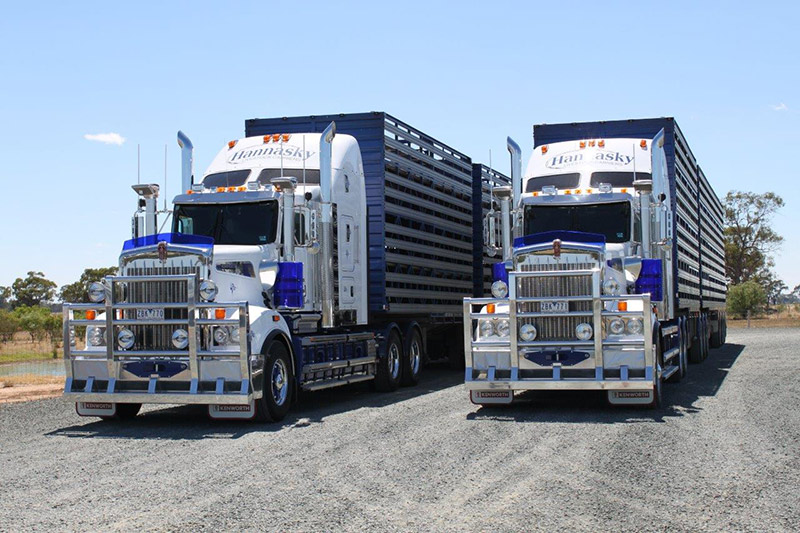 Trailers
They operate one Shanks B Double Cattle Crate which has a lower tare rate being an all-aluminium crate.
They also run three Byrne B Double Sheep Crates and one four deck Sheep Crate all made at Byrne trailers Wagga, the crates are non-bruise for transporting livestock. They work closely with Byrne trailers to make the best crates, air bag suspension, effluent management, removable post just to name a few.
Dolly
Dunn Tandem axle Dolly with BPW Suspension
With the ability to create many different configurations of trailers, tray, single, double, B Double, road train and AB triple they able to meet the many different needs of their clients.